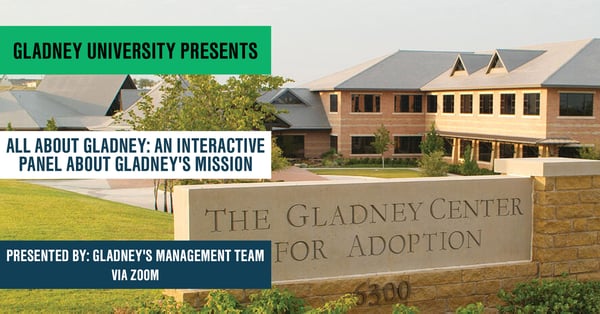 December 10, 2020, 1 to 2:30 pm CST
Have you ever wanted to learn more about who the Gladney Center is and what we do? This presentation will focus on Gladney's mission, programs and services. You will meet the managers behind each program and learn about how we fulfill our belief that every child deserves a loving and caring family. This presentation will be interactive and filled with practical information about all aspects of Gladney. Below are some of the things we will touch on:
History

Programs and services for expectant mothers, adoptive parents and adoptees

Meet the staff

How we collaborate with other non-profits

Education programs

Q & A
Speakers
Gladney's Management Team are thrilled to share with attendees about their different areas of expertise!
FAQs
Are Continuing Education Units (CEUs) provided through this training?
We are happy to offer .15 social work and counseling CEUs. Certificates of Completion of 1.5 contact hour is also available for all attendees.
Is this event virtual?
Yes. The event will be broadcast on ZOOM.
Will the event be recorded?
Yes
Where can I find other Gladney University trainings?
Visit GladneyUniversity.com for all upcoming trainings. You can also sign up to be notified by email.
Register for About Gladney: An Interactive Panel About Gladney's Mission