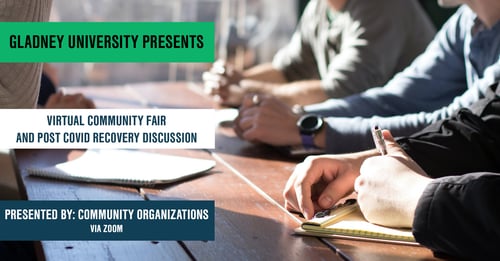 August 3, 2021, 10:00 a.m. to 12:00 p.m. CDT
Join Gladney for a Virtual Community Fair and Post COVID Recovery Discussion. Learn about the following organizations. Each organization will provide a 15 minute overview of the services and programs. After the fair, we will open the Zoom for a round table discussion moderated by Jennifer Lanter, from the Gladney Center. This interactive conversation will be focused on resources and recovery in a Post COVID environment. What has changed, what needs does our community have and how can we share our resources and collaborate with each other to serve our communities?
Organizations
Gladney Center for Adoption - Jennifer Lanter
For more than 135 years, Gladney has been a pioneer and leading voice for improving the lives of children, adoptive families and birth parents. With unwavering commitment, we have focused on our mission and made a difference in the lives of birth parents, families and children in the United States and around the world. We believe every child deserves a loving & caring family and we will not rest until all children know the love and stability of a forever home.
Lena Pope - Keegan Hand
Lena Pope is a nonprofit organization that believes that investing in the well-being of children today creates happy, healthy, and successful adults later. Our 90 years of experience in child and family services guide our current efforts to improve child well-being here in Tarrant County. We use evidence-based, research-tested programs focused on prevention and early intervention services that support child development and improve the behavioral and mental health of children. From infants to teens, Lena Pope offers services that improve child and family resiliency, decrease problematic behaviors, and improve school readiness and success. Lena Pope's counseling, educational and behavioral programs serve over 4,000 children and families every year.
ACH Child and Family Services - Dylann Hayes
Through strength-based partnership, ACH Child and Family Services (ACH) brings resources and skills to children and families struggling with life's challenges. Together they develop solutions that create safety, hope, love and the capacity to thrive. Their divisions include crisis intervention, family services, residential services, and community-based care (OCOK/foster care).

Help Me Grow North Texas - Faith Rivera
Help Me Grow North Texas has a free family support line that is now available to families across North Texas with young children through age 8. By calling this one line, families that are pregnant or have children under the age of 6 can get connected to a live Family Navigator for answers to questions related to pregnancy, parenting, or child development, connection to local community resources or programs that meet their needs, and a developmental screening for a quick check on their child's development to see if they are on track for school.

MHMRTC - Celestina Grannum
Family Connects North Texas is an evidence based universal nurse home visiting program that utilizes registered nurses to conduct in home visits at 3 weeks after delivery. Family Connects served any families that lie within our catchment area as long as a baby was born. We will see families regardless of their socioeconomic status or number of children. We will also see foster and adoptive moms with a new born and mothers who have chosen abortion. We are the only universal nurse home visiting program in north Texas.

Our Friends Place - Caitlin Doepfner
Since 1987, Our Friends Place has been helping young women in North Texas break generational cycles of abuse, neglect, poverty and homelessness through empowering self-reliance and independence. Our Friends Place programs emphasize education, job skills, and social-emotional health to help young women build a brighter future.
BraveLove - Alex Hill
BraveLove is a pro-adoption movement changing the perception of adoption by acknowledging birth moms for their brave decision. BraveLove is a national, nonprofit organization headquartered in Dallas, Texas aiming to change the perception of adoption through honest, informative, and hopeful communication that conveys the bravery of birth mothers. BraveLove creates short films, produces and distributes educational resources nationwide, and strives to honor birth mothers post-placement by hosting dinners nationwide. We believe adoption can be a beautiful thing!
Unbound - Larinda Smith
Unbound North Texas was started in 2012 as part of a multi-national network of Unbound offices working to end human trafficking in communities around the world. We support survivors and resource our community through four program areas: Survivor Advocacy: 24/7 crisis response and on-going case management for survivors of trafficking identified in North Texas. The Underground: 24/7 drop-in center for youth up through age 22, that provides a place for rest, light meals, shower facilities, safety, and referral for services. Professional Trainings: Profession-specific trainings for medical professionals, educators, hotel staff and social service providers to equip them to identify and respond to victims of human trafficking in their professional settings. Prevention Education: Work with schools, youth organizations, and shelters to empower youth to stay safe from trafficking and exploitation.

FAQs
Are Continuing Education Units (CEUs) provided through this training?
We are happy to offer .2 social work and counseling CEUs. Certificates of Completion of 2 contact hour is also available for all attendees.
Is this event virtual?
Yes. The event will be broadcast on ZOOM.
Will the event be recorded?
No, the training will not be recorded.
Where can I find other Gladney University trainings?
Visit GladneyUniversity.com for all upcoming trainings. You can also sign up to be notified by email.
Register for Virtual Community Fair and Post COVID Recovery Discussion