Season 2: Episode 3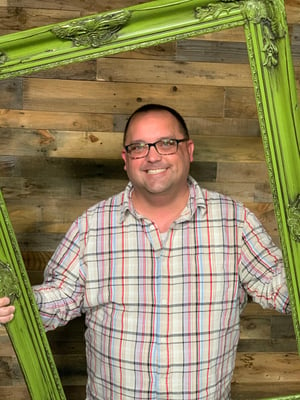 Guest Marshall Lyles joins reFRAMED Podcast Host, Emily Morehead, LPC, to talk about trauma. A lot of families ask a lot of questions about trauma and our goal is to break down this big topic into bite-size pieces. There's a phrase that our listeners probably hear a lot, "trauma-informed care", which does mean a lot but doesn't communicate a lot. Marshall defines trauma as any event that any person would go through that gets stored in the memory in a way that it then starts to interfere with their functioning. Trauma is more about how those memories are stored than it does about the actual events that happened.
We are striving to make an impact in our world through creating conversations about topics that are important to you and yours.
Our Guest:
Marshall Lyles, LPC-S, LMFT-S, RPT-S, has over 15 years of practice in family and play therapy. Drawing on lessons learned from working with attachment trauma in a variety of mental health settings, Marshall regularly teaches on trauma, expressive therapies, and attachment-informed family work around the globe. In addition to maintaining a small clinical practice, Marshall also conducts supervision and consultation sessions with counseling professionals who are pursuing EMDR certification and RPT status, often with a particular focus on the use of sandtray therapy. He is EMDR-certified and TBRI-trained. As Marshall is nearing the completion of his Ph.D. in Marriage and Family Therapy, more writing opportunities are emerging and this has become a passionate point of interest for him.
Show Notes:
In this episode, we talked about:
Different ways to think about trauma
"If the person perceived it to be traumatic, we listen and believe them.", Child Traumatic Stress Network
Trauma is individually determined. Genetics, care giving patterns. and the presence of healing forces and factors all have something to do with it.
The emotions are happening and the body is affected so the belief systems are unknowingly determined and defined by the pain where a child is meant to get to believe that they are worthy and important. Too much trauma, or trauma that doesn't get met with understanding and believing starts to change the way the child's self-concept is developed.
In many ways our children who are living in hypoarousal are struggling more even than those in hyperarousal. This gets mislabeled all the time.
As a foster/adoptive parent, if your child isn't immediately perceiving you as safe that's not necessarily something that you've done. It's a lot of what you've inherited. We can't expect our children that's in a hyper- or hypoaroused state of trauma to bring themselves back to regulation. The parents need to work together with the child bring them back to a calm state.
Stephen Porges Polyvagal Theory is that safety is the treatment in therapy. It's where healing happens.
Our nervous system is bigger than our brain. Those parts are telling our brain whether we're okay.
Therapy is hard. Healing is hard. It takes time.
When looking for a therapist that serves children, it's helpful to chose a therapist that practices some form of play therapy.
For older children, a playroom might not be appropriate but the therapist needs to have options for working with a child that isn't verbal because we're going to pull from parts of the brain where memories are stored.
Making progress in therapy is hard to notice sometimes. Ask yourself if you feel connected and are understood by the therapist. We're hoping that the child that wen through a trauma is okay in talking about it if they want to. We want them to feel safety and have the ability to create new memories. We're looking for more and more integration in that there are fewer moments of disconnect and deregulation.
Links and Resources Mentioned:
Follow Us:
The reFRAMED podcast is created to educate, encourage, and inspire parents and professionals that have a love for children and want to meet their needs.
Where to subscribe: iTunes/Apple Podcast | Google Podcasts | Google Play | Stitcher | TuneIn | Spotify | RSS
Help Us Spread the Word! Please let your social media followers know about this podcast.
If you enjoyed this episode of the reFRAMED podcast, please head over to iTunes, leave a rating, write a review, and subscribe.
Now that you've heard our podcast, do you have further questions? Please email us at podcast@gladney.org and let us know.