February 23, 2021, 10:00 am to 11:30 am CST
The decision to adopt across racial/cultural lines is a lifelong commitment to exploring matters of race, confronting racism in all its forms and constantly developing new skills and aptitudes. Transracial Adoptions are increasing in the U.S. With the creative work by and for Transracial Adoptees, this phenomenon is shining a light on the unique challenges of raising children of color in homes different from their culture or origin. Adopting, fostering and/or caregiving transracially requires caregivers to have sustained and healthy discussions about race and culture. This workshop will increase awareness about the difference between intent and impact. Participants will garner tools for thinking, talking, and "feeling" about race, and gain a deeper understanding of the responsibility of parenting transracially. Workshop provides developmentally sensitive tools, research and resources to create a sense of hope, and offer a deeper understanding of how families can prepare for a racially and culturally diverse adoption, and support transracial adoptees as they grow through the development stages of racial awareness and identity.
Speakers
TORREY E. CARROLL, MA, LPC + NIKKI M. CARROLL, MA, LPC FOUNDERS, THE TNC PSYCHOTHERAPY GROUP, PLLC
Partners in life and work. Nikki and Torrey Carroll believe in the redemptive power of relationships. They have championed the cause for more than a decade by walking alongside marriages and families as they heal and grow. As adoptive parents and psychotherapists, they understand and respect both the pressures involved in building a family, coupled with the unique gifts and learning experiences that the adoption dynamic brings.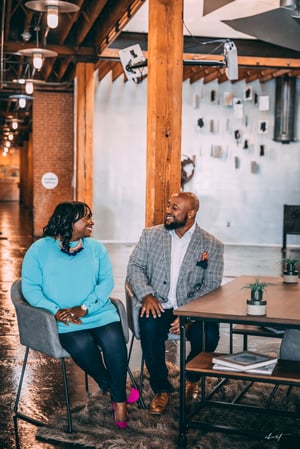 The Carrolls are frequent speakers at conferences and have extensive experience collaborating with non-profit organizations, agencies and community ambassadors to develop programming that revitalize and enrich individuals and family systems. Their clinical training and specializations include marriage and family therapy, crisis intervention, trauma, and adoption-sensitive therapy, including parenting skills within the adoption triad and transracial adoption issues. Their clinical experience extends to working with individuals of all ages who are connected to the child welfare system such as adoptees, first families, adoptive families, and caregivers.
Nikki and Torrey are founding Board members of Relationships First™ and Safe Conversations® Master Trainers. They have been featured in a number of publications and news media including Success Magazine, WFAA's Daybreak, and CBS's Plugged Into DFW, and co-hosted the Safe Conversations® Practice and Share DVD alongside Imago relationship therapy co-creators.
Prior to becoming Licensed Professional Counselors, Nikki and Torrey successfully managed a 20-year career within corporate America. Nikki holds a Bachelor of Business Administration degree from Baylor University, a Master of Arts degree in Professional Counseling and a Master of Arts Degree in Marriage and Family Therapy from Amberton University. Torrey holds a Bachelor of Science degree in Finance from The University of Texas at Dallas, a Master of Arts degree in Professional Counseling, and a Master of Arts Degree in Marriage and Family Therapy from Amberton University.
The Carrolls have been married for twenty years. Their journey has been filled with rich experiences that have varied from softly spoken messages, to loud and obnoxious life lessons on how to manage and maintain a healthy marriage. The Carrolls reside in a suburb of Dallas and call it an honor to be the parents of two 'wonder-filled' children. As a husband, wife, and parents of two, they bring extensive life experience and a heart for supporting and serving families in the foster care and adoption community.
FAQs
Are Continuing Education Units (CEUs) provided through this training?
We are happy to offer .15 social work and counseling CEUs. Certificates of Completion of 1.5 contact hours is also available for all attendees.
Is this event virtual?
Yes. The event will be broadcast on ZOOM.
Will the event be recorded?
Yes
Where can I find other Gladney University trainings?
Visit GladneyUniversity.com for all upcoming trainings. You can also sign up to be notified by email.
Register for Transracial Adoption & Caregiving: Is This Right for Me?