Season 1: Episode 3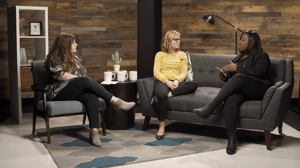 Emily Morehead, LPC and Lindsay Garrett, LCSW, have a conversation with Rhonda Roorda, MA, about Embracing the Heart, Mind, and Spirit of Transracial Adoption, focusing on honoring culture, embracing history, and working as a nation to seek the best possible outcomes for children of color who are adopted by white families.
We are striving to make an impact in our world through creating conversations about topics that are important to you and yours.
Our Guest:
Rhonda M. Roorda was adopted at the age of two into a white American family with Dutch heritage. She was raised with her two non-adopted siblings in the Washington, D.C. metropolitan area. Rhonda is an Author & International Speaker on Transracial Adoption. Rhonda's latest book, In Their Voices: Black Americans on Transracial Adoption was named by Choice Magazine as a 2016 Outstanding Academic Title. With the late Dr. Rita J. Simon, she coauthored a landmark trilogy of books on Transracial Adoption (In Their Own Voices, In Their Parents' Voices, and In Their Siblings' Voices). Rhonda's work is highly regarded in academia, among adoption agencies and parent groups, in corporations, in Hollywood, and in households throughout the United States and abroad. Rhonda is the recipient of the 2010 Judge John P. Steketee Adoption Hero Award from the Adoptive Family Support Network (MI). In 2017, Rhonda was awarded the Friend of Children and Youth Award from the North American Council on Adoptable Children (NACAC). Rhonda earned her Bachelor of Arts Degree in Telecommunications from Calvin College in Grand Rapids, MI; and a Master of Arts Degree in Communication-Urban Studies at Michigan State University in East Lansing, MI. From 2013-2016, Rhonda served on the Calvin College Alumni Board. In 2017, Rhonda became a Member of the Calvin College Board of Trustees. Rhonda works as a fund administrator at an educational advocacy organization in Lansing, Michigan.
Show Notes:
In this episode, we talked about:
Questioning identity
After being adopted at the age of 2 by a white family of Dutch heritage, Ms. Roorda questioned her identity. She struggled with looking different than her parents and siblings, having different skin and hair care needs, and facing questions about her heritage from kids at school and others in their community.
Desire to connect
At every stage in her life, Rhonda wanted to have some sort of connection with her community of origin. She yearned to embrace her physical characteristics and her history as a black American. The underlying desire was to "know she was worthy", and she acknowledged the courage necessary to pursue her cultural roots.
Advice for parents who adopt transracially

Truly "see" their children, because parenting children of color goes beyond love and care.
Don't pretend that they're "just like you" because that denies their inherent culture.
Be intentional in exploring their community of origin.
Acknowledge the discomfort that exists in the world in the form of current racial tension, historical prejudices and inequitable treatment, "white privilege", and the reality of facing different social rules to stay safe. Talking openly is the only way equality can be restored.
Recognize that you are a "blended" family. Color blindness can be hurtful because it ignores the need to embrace every culture and ethnicity represented. It is a lifelong journey to embrace traditions, foods, language, travel to country of origin to celebrate heritage.

What did Rhonda's parents do well?

Saw the value in living in a culturally diverse community, and eventually moved to Washington D.C.
Sought out opportunities to celebrate black art and literature, and built Rhonda's confidence by showing her that their stories and experiences matter both historically and in present times.
Promoted an understanding of "how we got here".

How can parents best communicate with their children of color?

Prepare in advance for honest conversations.
Use the mindset of combining "grace and fear".
Understand the history of racism in America.
Don't minimize or dismiss injustices to African Americans – there were times in our history when blacks were considered inferior.
Use the analogy of "everyone gets a piece of the pie" after working collaboratively to make it.

How can parents be effective role models?Understand that role modeling encourages their children to be advocates of change.

When they see bullying or hurtful situations, parents need to step up and say, "that's not OK".
Have diversity in their own life - friends of color who share life in true ways, who are in their home, in their community, in their church.
Make sure their children have people of color who are very significant in their lives, such as Godparents.
Keep trust alive by standing up for their children and for the reality of their blended family.
Be intentional about reaching out to communities of color to ask for their expertise – they WANT to be a resource for families of adopted children of color.
How can we work in the best interest of children being adopted?

We need more social workers and case workers who understand the depth of the importance of cultural environment to do assessments of white families seeking to adopt transracially.
Have deeper conversations with prospective adoptive families about the importance of true connection with their children's communities of origin
Rhonda's Digital Info & Books:
In Their Voices: Black Americans on Transracial Adoption
In Their Own Voices: Transracial Adoptees Tell Their Stories
In Their Parents' Voices: Reflections on Raising Transracial Adoptees
In Their Siblings' Voices: White Non-Adopted Siblings Talk About Their Experiences Being Raised With Black and Bi-Racial Brothers and Sisters
Links and Resources:
25 Helpful Resources for Transracial Adoptive Families
When hopeful parents decide on adoption, many of them are ready to add to their family regardless of race or physical similarities. It's true that, in many ways, adopting a child of another race is no different than raising a child who shares your ethnic and cultural background. However, while the color of your child's skin won't change your family bond, it will have an impact on his or her life.
It's important to be culturally aware and prepared for the realities of transracial adoption. With the right preparation, transracial adoption can be an immensely rewarding experience. Here, we've compiled a list of some of the best resources to help prospective and current adoptive parents successfully navigate transracial adoption and parenting.
Transracial Adoption Blogs & Websites
Many transracial families document their adoption and parenting journeys through personal blogs and websites. These blogs offer honest, detailed, first-person accounts of transracial adoption and can be a wonderful way for adoptive families and those considering adoption to learn more about the joys and challenges of adopting transracially.
Books about Transracial Adoption
Many new parents stock their bookshelves with resources about what to expect when they bring their child home. Here are a few to add to your collection if you are adopting a child of another race:
If you are adopting transracially, it's also important to equip your child with plenty of books that celebrate diversity and adoption. These children's books on adoption can help normalize your child's adoption story from the start. You can also find more books for transracial adoptive parents and transracially adopted children here.
Transracial Adoption Facebook Groups
There are many online groups for families of transracial adoption. These online forums and support groups can help you connect with other transracial adoptive families, share your personal experiences and participate in discussions about adoption and race. Here are a few commonly recommended Facebook groups to get started:
Before joining a social media group, however, note that not all online forums and discussions are well-monitored. Anyone — even those who aren't very educated about adoption or have inaccurate information — can jump in and comment, so keep that in mind.
Information for Non-White Parents Adopting Transracially
Most discussions about transracial adoption focus on white parents adopting African American, Hispanic, Asian or biracial children. But transracial adoption refers to any adoption in which parents of one race adopt a child of another — and not all transracial adoptive parents are white.
However, for non-white adoptive parents, resources on transracial adoption can be more difficult to come by. While many of the other resources on this list will be useful for families of any racial or cultural background, here are a few additional articles and resources offering insight for non-white parents:
Other Resources for Transracial Families
As transracial adoption becomes more common, the number of tools and resources available to transracial adoptive parents and adoptees continues to grow. Child Welfare Information Gateway is another trusted source for transracial adoption information and support.
To learn more about transracial adoption with the Gladney Center for Adoption, request our free Information Packet.
Follow Us:
Listen to the Podcast episode now.
The reFRAMED podcast is created to educate, encourage, and inspire parents and professionals that have a love for children and want to meet their needs.
Where to subscribe: iTunes/Apple Podcast | Google Podcasts | Google Play | Stitcher | TuneIn | Spotify | RSS
Help Us Spread the Word! Please let your social media followers know about this podcast.
If you enjoyed this episode of the reFRAMED podcast, please head over to iTunes, leave a rating, write a review, and subscribe.
What do you think? What are your thoughts on transracial adoption? Please email us your comments to adoption@gladney.org.