Season 1: Episode 1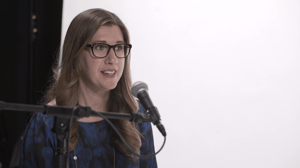 Emily Morehead, LPC and Mary Kathryn Nader, LPC (The WARM Place) have a conversation about dealing with all kinds of grief. Grief over a death; a loss of culture through an international adoption; a loss of a birth child through placing a child for adoption; a loss of caretakers and family life as you know it through removal by Child Protection Services.
We are striving to make an impact in our world through creating conversations about topics that are important to you and yours.
Our Guest:
Mary Kathryn Nader is passionate about helping grieving children and families find hope and healing. She has been involved at The WARM Place for over four years and loves watching the transformation families experience through connection with others who are grieving. She is the Group Director of the Sibling Group (a group for families after the death of a child), a Parent Loss Group (a group for families after the death of a parent), and the PreK Group (a group for children ages 3.5-5 after the death of a family member). She has also worked in a mental health hospital, nonprofit organizations, church setting, and private practice.
Since the recording of this episode has since started her own practice, Hope Counseling and Consulting Services, PLLC. Appointments can be made by calling 817-458-2482.
Show Notes:
In this episode, we talked about:
Grief is such a big thing that people want to immediately find a way to do something. Our culture is all about solving problems. There are no shortcuts through grief. We have to really walk through it.
We have to walk through the grief journey. What does it look like to carry this loss? Who can help me carry it?
How do you explain death to a child?

Explain what death means in a basic and age appropriate sense.
Honesty is remembering.

How the Warm Place helps people grieve:

Creates space and community to grieve. The Warm Place is a safe place where you can remember your loved one.
Parents can create a safe place for their children to grieve that loss.

Children Grieving Through Hard Places

We encourage to talk about what happened as a family in an age appropriate way. Be honest with their children.
As the adoptive parent, don't lie to your child about the circumstances. When that happens and the child finds the truth, they then grieve the loss of trust as well as grieve the circumstances.

Go-To Phrases

"There's no right way to grieve."
"There's no timeline for grief."
"Give yourself the space and the time to grieve."
"Put your oxygen mask on."

Gratitude is Important During Grief

When we're grieving, to intentionally make yourself look for things that are helpful during your grief journey, for small things that you can be thankful really can be a great tool in someone's grief journey.
To acknowledge that you are not in this alone. You have people that are supporting you.

Gratitude Practice
Grieving Losses Other Than Death Such as Loss of Culture, Loss of Birth Child, Loss of Fertility, Loss of Caretaker

Providing time and space to talk about the losses. Write down the losses. Talk about what was written down.
Permission to share your heart.
Permission to not feel guilty about the loss.
Recognize that it is going to be a difficult time.
Permission to say "no" to things and setting boundaries.
Practicing the ask of what you need.
Links and Resources Mentioned:
Suggested Readings:
Children's Books about Grief:
Adult's Books about Grief:
Follow Us:
Listen to the Podcast episode now.
The reFRAMED podcast is created to educate, encourage, and inspire parents and professionals that have a love for children and want to meet their needs.
Where to subscribe: iTunes/Apple Podcast | Google Podcasts | Google Play | Stitcher | TuneIn | Spotify | RSS
Help Us Spread the Word! Please let your social media followers know about this podcast.
If you enjoyed this episode of the reFRAMED podcast, please head over to iTunes, leave a rating, write a review, and subscribe.
What do you think? What are your thoughts on grief and gratitude practices? Please email us your comments to adoption@gladney.org.