Season 1: Episode 2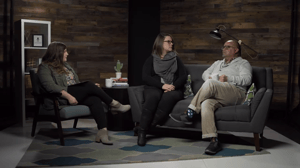 Emily Morehead, LPC, Ginny Manley, LPC and Marshall Lyles, LPC-S, LMFT-S, RPT-S, EMDRIA Approved Consultant have a conversation about taking a breath and being in the moment in order to have mindful awareness of what's needed for your child. Modeling acceptance, honesty and grace to provide the opportunity to be in the moment so you can be available for your child giving you permission to breathe.
We are striving to make an impact in our world through creating conversations about topics that are important to you and yours.
Our Guest:
Marshall Lyles has 15 years of practice in family and play therapy. He has extensive speaking and training experience and has worked in a variety of mental health settings. Most of Marshall's clinical practice has focused on attachment trauma and its effect on family relationships. Marshall conducts supervision and consultation sessions with counseling professionals and leads training in both parenting and professional settings; much of his consultation and training focuses on the use of sandtray therapy within a trauma-informed context. He is EMDR-certified and TBRI-trained. As Marshall is nearing the completion of his Ph.D. in Marriage and Family Therapy, more writing opportunities are emerging, and this has become a passionate point of interest for him.
Show Notes:
In this episode, we talked about:
Mindfulness During Parenting

Lean into your pain and harness it instead of ignoring or hiding
You can get lost along the parenting journey.

Community is so important for having people who see you. Lean in to them and make sure your relationships are strong.
We all have relationship obstacles
Therapy is a good resource

Allow yourself space to embrace your history
The amount of life crammed into our kid's life on earth can't be explained. Making peace with the fact that this is more complicated than can be shared. Tomorrow is going to be the most important part of their story.

Attachment

Consistent modeling of qualities that we want to see back in our children

Respect
Security
Acceptance of Others

Perspectives of Parents May Be Challenged

Parenting an adopted child may look very different than how you are parenting a biological child.
Attachment parenting and connected parenting isn't about a lack of structure. It's not a lack of discipline. It's about saying that no structure has ever worked outside of nurture and that we have to those things equally balanced to develop those character traits we're hoping our kids will embody.

Protecting Our Child's Story

Find a way to compassionately and carefully curate our kids' stories and say I want my kids when they are older they can share their own story when they feel safe and want to give you the gift of trust.

Elevator Speech for Mindful Parenting

Mindful parenting is about understanding that we can't communicate connection until we've mastered regulation and mindfulness is our entry point into being regulated enough to make sure other people know that we are available.

How Do You Fix Not Showing Up for Your Child?

Learn to repair, confess, and lead into repair.
Attitude of acceptance.
We know that attunement only must happen about 30% of the time to result in securely attached children.
Links and Resources Mentioned:
Suggested Reading:
No-Drama Discipline & Whole Brained Child, by Dr. Daniel Siegel
Parenting from the Inside Out: How a Deeper Self-Understanding Can Help You Raise Children Who Thrive, by Dr. Daniel Siegel and Mary Hartzell
Attaching in Adoption: Practical Tools for Today's Parents, by Deborah Gray
The Connected Child: Bring Hope and Healing to your Adoptive Family, by Karyn Purivs and David Cross
Follow Us:
Listen to the Podcast episode now.
The reFRAMED podcast is created to educate, encourage, and inspire parents and professionals that have a love for children and want to meet their needs.
Where to subscribe: iTunes/Apple Podcast | Google Podcasts | Google Play | Stitcher | TuneIn | Spotify | RSS
Help Us Spread the Word! Please let your social media followers know about this podcast.
If you enjoyed this episode of the reFRAMED podcast, please head over to iTunes, leave a rating, write a review, and subscribe.
What do you think? What are your thoughts on mindfulness in parenting? Please email us your comments to adoption@gladney.org.