Season 1: Episode 5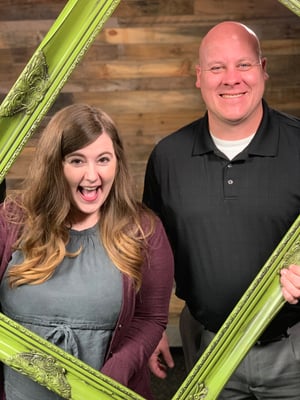 Emily Morehead, LPC, and Bill Porter, M.Ed. talk about reframing our children's brain development. Every time you provide physical care, instructional care, and emotional care for your child (no matter their age), you are writing yourself into your child's brain.
"What fires together, wires together." ~ Donald Hebb, a Canadian neuropsychologist known for his work in the field of associative learning.
We are striving to make an impact in our world through creating conversations about topics that are important to you and yours.
Our Guest:
Bill Porter, M.Ed. is the Director of Post Adoption and Client Services at Gladney Center for Adoption. He has over 20 years of experience in providing counseling, support and advocacy to at-risk children, youth, and families. Bill joined the Gladney Family in 2013 and he spends most of his time leading his team in providing "best practices" to adoptees, birth families and adoptive families. Bill has been trained through the Trust-Based Relational Intervention TBRI® at Texas Christian University and has provided clinical supervision and consultation in evidenced based programming. Bill received his Bachelors of Arts in Religion from Southern Nazarene University and his Masters of Education in Counseling from North Texas University.
Show Notes:
In this episode, we talked about:
You can't understand the complexity of the brain until someone comes in and interacts.
Physical Care

Meeting their physical needs such as feeding, changing diaper.

Instructional Care
Emotional Care

Interactions on a social and emotional level with physical growth thru dancing, singing, reading.
Every time you hold your child you are imprinting yourself on the child.

Repetition from the interactions thickens the neurological freeway

Neuroplasticity is the brain's ability to reorganize itself by forming new neural connections throughout life

in response to new situations or to changes in their environment.

There is no age limit on this.
"The healthiest brain is the one that is connected with others. The reality is that we need each other." ~Bill Porter
Links and Resources Mentioned:
Follow Us:
Listen to the Podcast episode now.
The reFRAMED podcast is created to educate, encourage, and inspire parents and professionals that have a love for children and want to meet their needs.
Where to subscribe: iTunes/Apple Podcast | Google Podcasts | Google Play | Stitcher | TuneIn | Spotify | RSS
Help Us Spread the Word! Please let your social media followers know about this podcast.
If you enjoyed this episode of the reFRAMED podcast, please head over to iTunes, leave a rating, write a review, and subscribe.
What do you think? What are your thoughts on how parents can connect with their child in order to provide a healthy brain? Please email us your comments to adoption@gladney.org.