Part 1: The Couple Check-Up: Keeping Relationships Strong in the Adoption and Fostering Journey - 10/12/21 | 10 am - 11:30 am

Part 2: The Couple Check-Up: Keeping Relationships Strong in the Adoption and Fostering Journey … The Plan, The Purpose, The Power - 10/19/21 | 10 am - 11:30 am
Before the adoption and fostering journey, we are often coached and trained on numerous ways to prepare for the child. However, preparing a relationship for the adoption dynamic is rarely discussed. Co-piloting through the multilayered haze of trauma, adoption, and special needs can become exhausting and paralyzing to a relationship. The stress and pressure of effective parenting can highlight relational stress fractures. So what can couples do to ensure their partnership remains strong?
Led by a husband and wife, licensed professional counselor team, who are also adoptive parents, this session explores how to cultivate connection and increase relational elasticity, while caring for children from traumatic pasts. This is a candid training regarding the turbulence of communication, conflict resolution, intimacy, and relationships as they intersect with caring for children with trauma histories. Speakers will coach on ways couples can learn how to build on strengths, creatively address differences, and work together for the best interests of their relationship, which in turn is the best present we can ever give to children who desperately need a safe environment to heal and grow.
Workshop Series Overview
Part 1, Tuesday, October 12, 2021 | 10:00 a.m.– 11:30 a.m. CST:
Isolation is the number-one problem facing marriages and relationships. Training will uncover the threats of isolation and take a deep-dive into the relational stressors that can occur throughout the adoption and fostering journey. Training will lay the foundation and underscore the importance of having intentional strategies in place to strengthen the potential for success for couples who choose the road of fostering and adoption.
Part 2, Tuesday, October 19, 2021 10:00 a.m. – 11:30 a.m. CST:
Training will provide participants with workable strategies, and hands-on exercises and interventions for keeping relationships vital and intimate in the headwinds of turbulence.
Speakers
TORREY E. CARROLL, MA, LPC + NIKKI M. CARROLL, MA, LPC FOUNDERS, THE TNC PSYCHOTHERAPY GROUP, PLLC
Partners in life and work. Nikki and Torrey Carroll believe in the redemptive power of relationships. They have championed the cause for more than a decade by walking alongside marriages and families as they heal and grow. As adoptive parents and psychotherapists, they understand and respect both the pressures involved in building a family, coupled with the unique gifts and learning experiences that the adoption dynamic brings.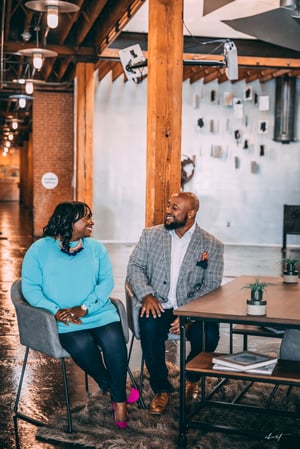 The Carrolls are frequent speakers at conferences and have extensive experience collaborating with non-profit organizations, agencies and community ambassadors to develop programming that revitalize and enrich individuals and family systems. Their clinical training and specializations include marriage and family therapy, crisis intervention, trauma, and adoption-sensitive therapy, including parenting skills within the adoption triad and transracial adoption issues. Their clinical experience extends to working with individuals of all ages who are connected to the child welfare system such as adoptees, first families, adoptive families, and caregivers.
Nikki and Torrey are founding Board members of Relationships First™ and Safe Conversations® Master Trainers. They have been featured in a number of publications and news media including Success Magazine, WFAA's Daybreak, and CBS's Plugged Into DFW, and co-hosted the Safe Conversations® Practice and Share DVD alongside Imago relationship therapy co-creators.
Prior to becoming Licensed Professional Counselors, Nikki and Torrey successfully managed a 20-year career within corporate America. Nikki holds a Bachelor of Business Administration degree from Baylor University, a Master of Arts degree in Professional Counseling and a Master of Arts Degree in Marriage and Family Therapy from Amberton University. Torrey holds a Bachelor of Science degree in Finance from The University of Texas at Dallas, a Master of Arts degree in Professional Counseling, and a Master of Arts Degree in Marriage and Family Therapy from Amberton University.
The Carrolls have been married for twenty years. Their journey has been filled with rich experiences that have varied from softly spoken messages, to loud and obnoxious life lessons on how to manage and maintain a healthy marriage. The Carrolls reside in a suburb of Dallas and call it an honor to be the parents of two 'wonder-filled' children. As a husband, wife, and parents of two, they bring extensive life experience and a heart for supporting and serving families in the foster care and adoption community.
FAQs
Are Continuing Education Units (CEUs) provided through this training?
We are happy to offer .15 social work and counseling CEUs for each workshop attended. Certificates of Completion of 1.5 contact hours per workshop is also available for all attendees.
Is this event virtual?
Yes. The event will be broadcast on ZOOM.
Will the event be recorded?
Yes; however, the recording is for internal training purposes only and will not be shared.
Where can I find other Gladney University trainings?
Visit GladneyUniversity.com for all upcoming trainings. You can also sign up to be notified by email.
Register for The Couple Check-Up: Keeping Relationships Strong in the Adoption and Fostering Journey, A Two-Part Workshop Series