November 2, 2021 | 10 am to 12 pm
Transracial caregiving is a multifaceted journey for the entire family, but it is often the child who bears the brunt of navigating the complexity of the experience. It is critical that caregivers and parents understand the history of why children of color are over-represented in child-welfare in order to avoid perpetuating racism and to instead embrace an anti-racist outlook to support the health and wellbeing of transracial adoptees and/or transracial foster youth. This workshop will provide a window into the nuanced first-hand narratives of adoptees through videos, anonymized case studies and Angela's personal stories. This interactive workshop will leave you thinking about the role transracial adoption plays in our quest for racial justice in America.
Learning objectives:
Understand the history and intersections of racial and social norms in America as it relates to transracial caregiving.
Develop strategies for identifying, preventing and responding to microaggressions.
Increase awareness of: racism, unconscious biases, colorism, stereotypes, implicit biases and internalized racism.
Increase the psychological well-being of transracially adopted people.
Match your good intentions to intended impacts.
Recognize the importance of amplifying adoptee voices
Speaker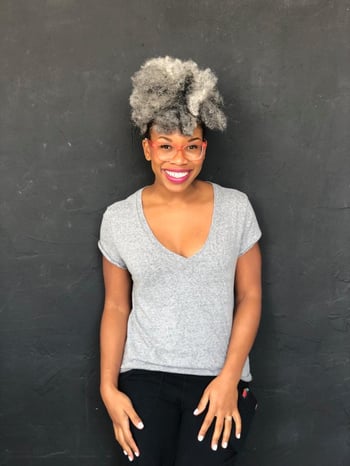 Angela Tucker is an adoptee who is committed to advancing the conversation, not just having one. She is an unabashed truth-teller and a gifted speaker and educator. As a black woman adopted from foster care to a white family, and growing up in a city that was demographically only 1% Black, she understands the power of life's most difficult moments. Her determination and insatiable curiosity is an inspiration to many and is on display through her search for her biological parents in the documentary, Closure. Her unique upbringing has encouraged an expansive and inclusive definition of family.
The Adopted Life began as a blog and has transitioned into her consulting practice and the home of her 3-part webseries, The Adopted Life, where she interviews transracially adopted youth. Angela's 10 episode podcast, The Adoptee Next Door amplified adult adoptee voices to showcase the spectrum and diversity of adoptee experiences and outlooks. Angela has consulted with NBC's This Is Us, and supported the lead actor of Broadway musical Jagged Little Pill to support Diane Paulus' work to set a new standard for Broadway; to always consult with someone who has the lived experience that they are portraying on stage. Angela serves as an advisor to child-welfare agencies in South Africa, Canada and Europe, she mentors adoptees nationwide, and has been published in The Journal of Child and Family for her Inclusive Family Support Model. She serves on the Ethics Committee for The Adoption Files Initiative and also serves on the steering committee of The Society of Adoptee Professionals of Color In Adoption.
Angela has appeared on national television and radio programs such as Red Table Talk and CNN with Anderson Cooper, where she quickly gained a reputation for being a national thought leader on the intersectional topics of race, class, and identity. Her first book is scheduled for publication in the spring of 2023 (Beacon Press).
Angela lives with Bryan Tucker, her Emmy-award winning spouse in Seattle, Washington.
FAQs
Are Continuing Education Units (CEUs) provided through this training?
We are happy to offer .2 social work and counseling CEUs for those who attend. Certificates of Completion of 2 contact hours per workshop is also available for all attendees.
How do I register for the other trainings with Angela Tucker?
Register by clicking on each training below that you would like to attend:
Is this event virtual?
Yes. The event will be broadcast on ZOOM.
Will the event be recorded?
No.
Where can I find other Gladney University trainings?
Visit GladneyUniversity.com for all upcoming trainings. You can also sign up to be notified by email.
Register for History of Transracial Adoption & American Racial Norms