As a professional who works with women and families you may have the opportunity to talk with women who are struggling with unplanned pregnancies or who may be experiencing a parenting crisis. Gladney understands you want to provide your patients with trusted resources.
The Gladney Center would like to help educate you and your staff about adoption. We are excited to offer Lunch & Learns specially designed for professionals. The training will consist of the following information and services:
Information about the adoption process

Services to expectant mother and adoptive parents

How to approach the subject of adoption with clients

How to refer a patient to Gladney
Gladney Lunch & Learns are provided at no cost to you and your staff. In the spirit of being safe during the pandemic, we are happy to offer the lunch n learns virtually. We will have lunch delivered to you and provide a short presentation about Gladney and our services. For more information about scheduling an adoption in-service for your office please contact Ashley Ellington at (817) 922-5933 or email Ashley.ellington@gladney.org.
The Gladney Center is the most comprehensive adoption agency in the country. For over 135 years, The Gladney Center for Adoption has been assisting women who are facing the most difficult decision of their lives…the decision to place their child for adoption. Gladney's top priority is always the health and well-being of the expectant mother and Gladney provides all services free of charge to any woman who is considering making an adoption plan for her child. Our adoption counselors, legal services, and post-adoption department are all exceptional in their dedication to our clients. Gladney is also proud to offer international adoption programs, and adoptions from the Department of Family and Child Services. Gladney's newest program is the Gladney Home which provides a safe and caring environment for teenage girls in foster care. Gladney believes every child deserves a loving and caring family and we work hard to make that happen.
Thank you for your interest and support of The Gladney Center! We look forward to working with you in the future
Adoption Resource Materials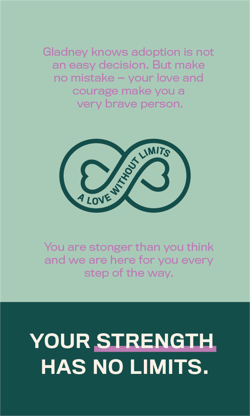 We want to provide you with as many tools and resources as possible as you talk with women who are struggling with unplanned pregnancies or who may be experiencing a parenting crisis. Click on any of the links to download the resource needed:
Podcasts
Video Resources
If including a specific video in an email, you can right click on one of the photos below, click on Copy. Ctrl + V to paste the photo and video link into your email.
| | | |
| --- | --- | --- |
| Jennifer's Pregnancy and Adoption Story Part 1 | Pam's Adoption Journey | |
| | | |
| | | |
---